Power LED Lights
4XLED high power LED lights are designed for use in the free air, mainly on vehicles. It is not suitable for stationary, continuous lighting indoor or outdoor, or for built-in applications, if there is no air flow through the housing case.
---
SM4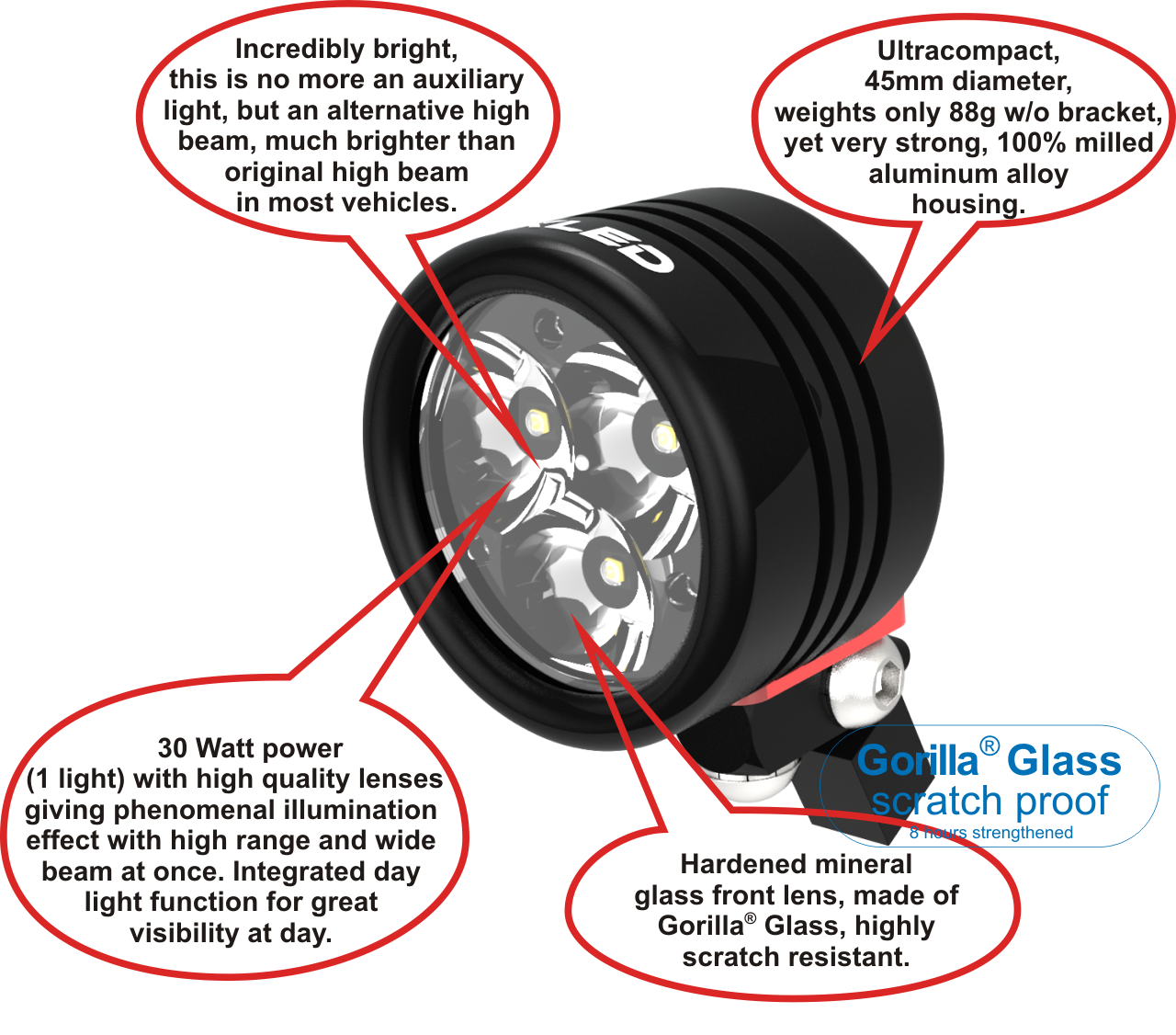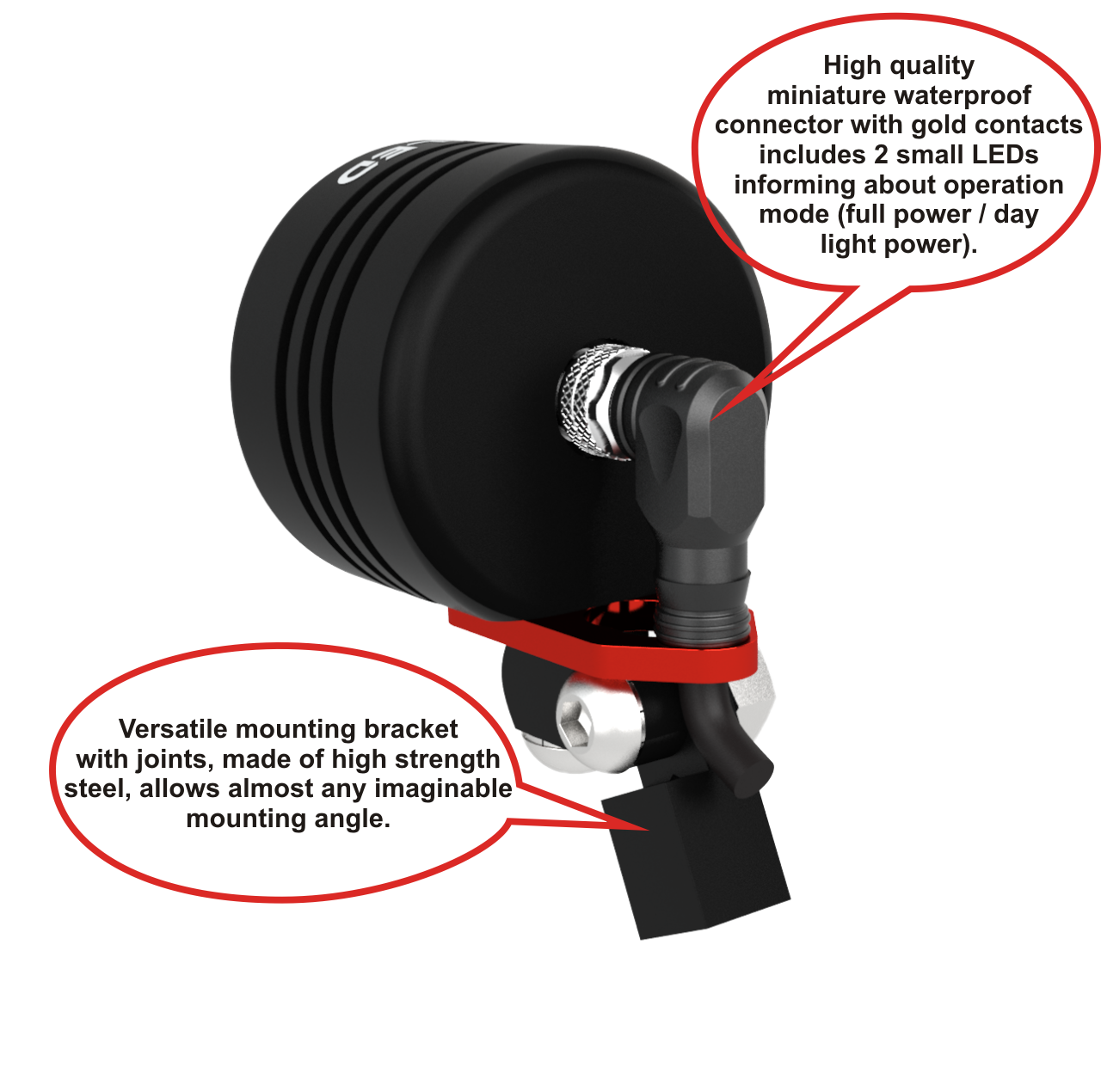 Incredibly bright, this is no more an auxiliary light, but an alternative high beam, much brighter than original high beam in most vehicles.
Construction:
25 or 30 Watt power and ca. 3000-3500 lumen neutral white light
milled housung made of high strength aluminum alloy
highest environmental protection (IP69K/connector IP67)
built in high effectivity 2-stage energy converter (day light/full power)
latest LED diodes
high quality optics
thermal, overvoltage- and false polarity secured
built in interference suppressor filters. The light is "quiet" against radio devices.
3 years guarantee
CE und RoHS conformal
Versions:
SM4 SPEED (30 Watt)maximum range, but also wide beam, illuminaing the sides to almost 180°. Recommended for vehicles, which arrive high speeds.
SM4 OFF (25 Watt) Also a really good range, with somewhat wider beam, ideal for typical off-road.
Videos:
2x SM4 OFF + BMW R1200 GS


2x SM4 SPEED + BMW R1200 GS

Find more data and purchase possibilities of SM4 in the shop:
SHOP
Lucy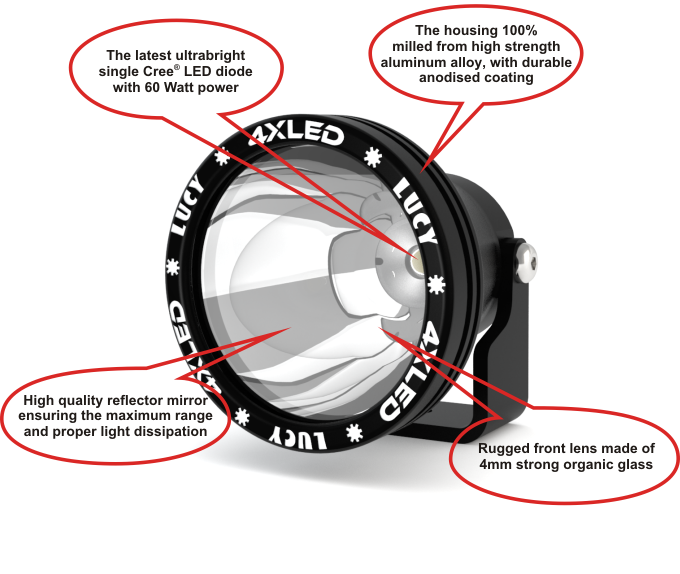 The ultimate high range head light, replacing the strongest LED bars at much less weight and size. Very useful on straight sections of ways, where the maximum far view is needed. Also, it is very suitable as a very powerful search light eg. for boats.

Construction:
60 Watt Power, brightness at about 6000 lumen
100% milled housing, made of high strenght aluminum alloy
Highest tightness
Ruggedized, high efficiency power converter, integrated in the light
High quality reflector mirror, ensuring best range and proper light dissipation
Thermal, reverse polarity and overvoltage protection
2 years of quarantee
CE and RoHS compliant
Available in black or matt silver
Videos:
2x Lucy + Jeep Grand Cherokee

Dimensional drawing
Find more data and purchase possibilities of Lucy in the shop
SHOP